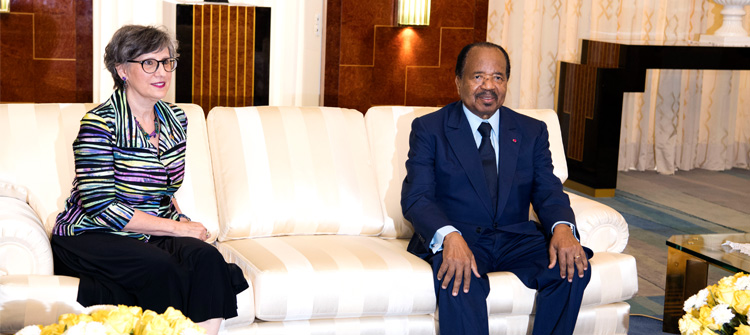 The President of the Republic, His Excellency Paul BIYA held a goodbye session with Canada's outgoing High Commissioner H.E. Nathalie O'Neil at Unity Palace on 24 July 2019.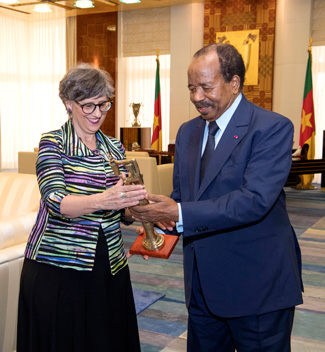 Speaking to journalists after the one-hour talks with the Head of State, the Canadian Diplomat highlighted Cameroon's legendary hospitality and expressed hope that the country will regain its status as a peace haven in the region.
"People told me before I arrived that Cameroon is a beautiful country. I travelled in eight of the ten regions and I leave with the feeling that Cameroon is a beautiful country with beautiful people."
"I was received warmly wherever I went to in Cameroon and I wish peace to the Cameroonian people," she said.   
H.E. Nathalie O'Neil revealed some details of her conversation with President Paul BIYA. She said they made a review of her actions in Cameroon since her arrival in 2017. They discussed about working on bilingualism, multiculturalism and the strengthening of women's economic empowerment, with the latter being a key policy for the Canadian Government.
"We also talked about some of the trade and economic files that I have worked on with Cameroonian partners," she added.
H.E. Nathalie O'Neil mentioned that her country was interested in the development of sectors such as water and energy resources.
She equally reiterated Canada's commitment to support Cameroon in the resolution of the socio-political situation in the North-West and South-West Regions.
Cameroon and Canada have longstanding bilateral ties, established in 1962. Both countries are members of the Commonwealth of Nations and the International Organisation of La Francophonie (IOF).