The President of the Republic, His Excellency Paul BIYA met with Michelle Bachelet, the United Nations High Commissioner for Human Rights at the Unity Palace on 3 May 2019. The UN scribe and former President of the Republic of Chile (2006-2010 and 2014-2018) is in Cameroon for a four-day working visit upon the invitation of the Head of State.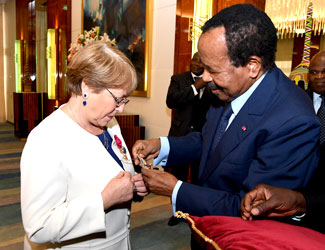 Speaking to journalists after the audience, Her Excellency Michelle Bachelet revealed that she had a good conversation with President Paul BIYA.
"I had a meeting with the President on all the different situations that the country is still facing on peace and security, development, and human rights," she said.
The UN Diplomat added that their discussion was hinged on how the Office of the High Commissioner for Human Rights (OHCHR) can support Government efforts in the continuous respect, promotion and protection of human rights.
President Paul BIYA decorated H.E. Michelle Bachelet with the medal of Grand Officer of the National Order of Valour.
Since her arrival on 1 May 2019, Michelle Bachelet has held separate talks with the Prime Minister, Head of Government and some Members of Government including: the Minister of State, Minister of Justice and Keeper of the Seals; the Minister of External Relations; the Minister of Territorial Administration; the Minister Delegate at the Presidency in charge of Defence; the Minister of Secondary Education; and the Minister of Women Empowerment and the Family.