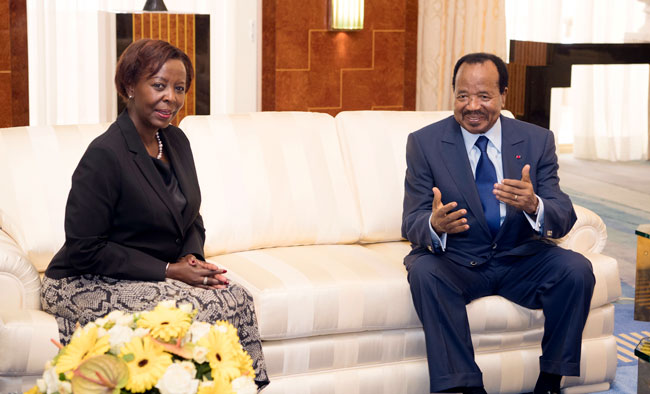 The Secretary General of the International Organisation of La Francophonie (OIF), Ms Louise Mushikiwabo was at the Unity Palace on Friday 24 May 2018, on the invitation of the President of the Republic, His Excellency Paul BIYA.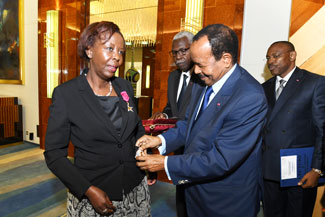 Secretary General Louise Mushikiwabo was decorated by the Head of State with the medal of Grand Officer of the National Order of Valour.
In an exchange with reporters at the end of the lengthy and convivial discussion with the Head of State, she disclosed that three principal reasons account for her visit to Cameroon.
The former Minister of Foreign Affairs of Rwanda highlighted that Cameroon is a key player within the OIF. Thus, she wanted to meet H.E. Paul BIYA and present her vision for the growth of the organisation.
"I have been in office for five months and I wanted to make sure that I mark my term of office with a visit to this country," she said.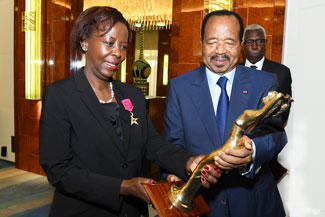 Secondly, the OIF Secretary General noted that it is also part of the mandate of the organisation to accompany member states in political processes.
"I wanted to offer that the organisation that I lead is ready, willing and happy to contribute in any way possible to the stability of this country and the continuity of the peace that it enjoyed for many years until recently," she explained.
Lastly, Ms Louise Mushikiwabo said she wanted to reassure the Government that there will be more collaboration from the OIF in terms of: education, the youths, the digital era, and the processes linked to the politics and security of Cameroon.