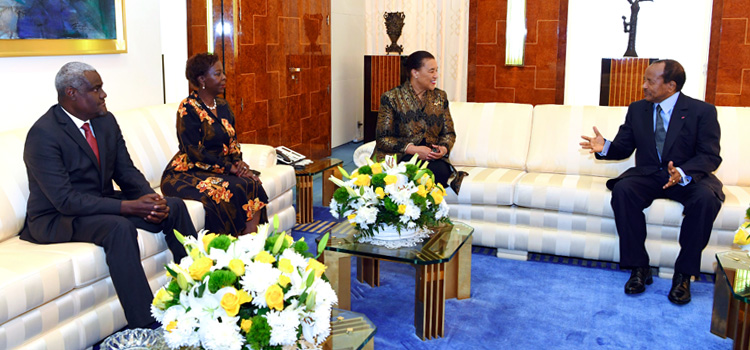 The President of the Republic of Cameroon, His Excellency Paul BIYA held talks on 27 November 2019 with the Chairperson of the African Union Commission – H.E. Moussa Faki Mahamat, the Secretary-General of the Commonwealth of Nations – the Right Honourable Patricia Scotland, and the Secretary-General of the International Organisation of La Francophonie – H.E. Louise Mushikiwabo.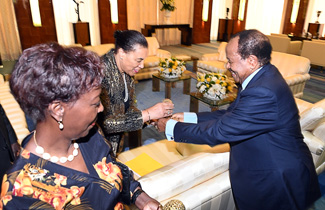 The joint audience at Unity Palace was an occasion for the heads of these international bodies to reiterate their commitment to support Cameroon's peace process in the North-West and South-West Regions following the organisation of the Major National Dialogue, which was convened by the Head of State. H.E. Moussa Faki Mahamat, Rt Hon Patricia Scotland, and H.E. Louise Mushikiwabo equally expressed their readiness to accompany Cameroon in the smooth organisation of the legislative and municipal elections scheduled for 9 February 2020.
Speaking to reporters after the 75-minute audience, the Chairperson of the AU Commission acknowledged President Paul BIYA's determination to seek lasting solutions through dialogue and appeasement.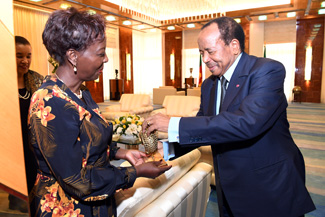 H.E. Moussa Faki Mahamat announced that the joint mission will meet political leaders and those from civil society organisations as pathfinders who wish to assist Cameroon in a way that is proper.
"Our major concern is to contribute towards peace and stability. We believe that Cameroonians do not merit any form of violence and differences ought to be resolved peacefully," he said.  
The Secretary-General of La Francophonie noted that the main responsibility lies with the people of Cameroon. H.E. Louise Mushikiwabo said the three organisations have the capacity and obligation to contribute modestly throughout the peace process with regard to the aspirations of the population.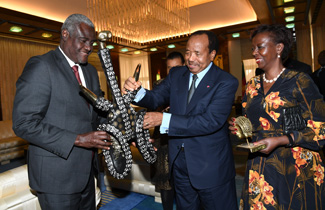 On her part, Rt Hon Patricia Scotland stated that peace, security and equality are of pivotal importance. She said they are determined to do all they can as three organisations to support the peaceful process. Thus, they are encouraging every single actor to put peace and good governance first.
"We are at the beginning of a process. This is a moment of change, an important moment which we have to seize and support in solidarity. So all those who love good governance and peace need to work hard to deliver it," she explained.
Rt Hon Patricia Scotland concluded that the AU, the Commonwealth and La Francophonie are applauding and promoting all those who wish to commit themselves to peace and a resolution to the crisis.
It should be recalled that President Paul BIYA has repeatedly expressed his firm desire to seek a peaceful method for the effective resolution of the socio-political situation in the North-West and South-West Regions. This was re-echoed recently during a panel discussion of the Second Paris Peace Forum where he announced the possibility, in conformity with the Constitution, to establish a special status to both regions – a key recommendation of the Major National Dialogue.