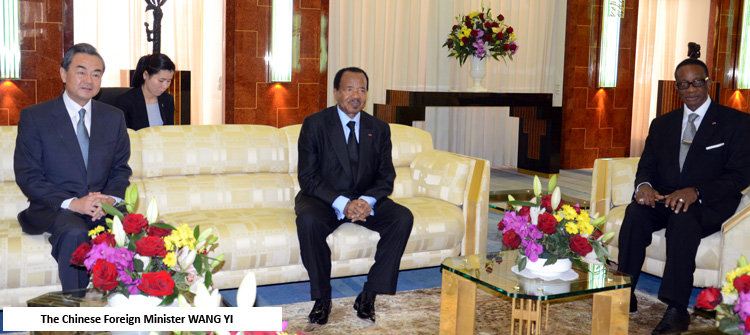 The President of the Republic His Excellency Paul BIYA held discussions with the visiting Chinese Minister of Foreign Affairs WANG YI on Tuesday 13 January 2015 at Unity Palace. The Head of State later had another audience with the Algerian Ambassador to Cameroon H.E. MILAT TOUFIK.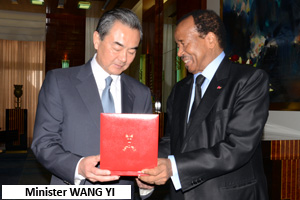 The Chinese Foreign Minister WANG YI touched down at the Nsimalen International airport last evening for a three day visit to Cameroon during which he will meet top Government officials. Shortly after his audience with the Head of State, the Chinese diplomat told the press that his visit to Cameroon was part of the on-going cooperation geared towards boosting the economic growth of Cameroon so as to improve on the living conditions of the population.
He said that China regarded Cameroon as a solid and reliable economic power and that during the audience, President Paul BIYA elaborated on the strategies to get Cameroon to economic emergence by 2035. This important goal required the putting together of new models and a new environment that will propel the country forward.
WANG YI hailed the mutually beneficial cooperation ties between the two countries that will yield prosperity for Cameroon and China.
At the end of the audience, President Paul BIYA exchanged gifts with the Chinese Minister of Foreign Affairs who was also raised to the rank of Grand Officer of the National Order of Valour.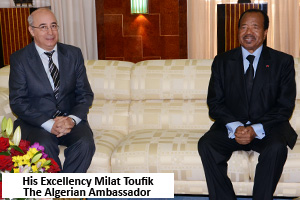 In the early afternoon, the Algerian Ambassador to Cameroon MILAT TOUFIK was granted a farewell audience that lasted over thirty minutes.
Speaking to the press immediately afterwards, MILAT TOUFIK said that it was a great pleasure for him to be at Unity Palace for a second time in less than a week, following his attendance of the ceremony for New Year wishes to the Head of State. He said that they made and overview of the cooperation and political issues of interest to the two countries.
The Algerian Ambassador lauded the solicitude of the Head of State and the Government during his stay in Cameroon which enabled him carry on his duties. 
Speaking on the issue of terrorism, the Algerian Ambassador said that coming from a country that had long suffered from terrorist activities, he understood the problem, which has no ethnic or religious coloration, but is a global threat. He said that it is therefore a matter of concern to all and that Cameroon ought to be assisted by all and sundry in the fight against the terrorists who are very active in the Northern regions of the country.