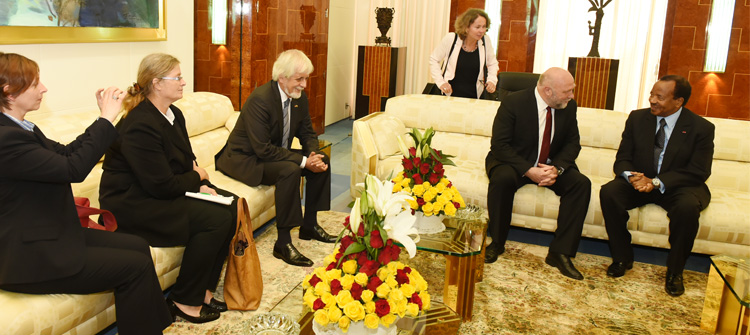 The Head of State His Excellency Paul BIYA and Günter NOOKE, the personal representative of Angela MERKEL, the German Chancellor, have discussed a broad range of issues as they reviewed cooperation ties between Cameroon and Germany during an audience at Unity Palace on Thursday 16 April 2015.
Speaking to pressmen after immediately after the audience that lasted over one hour, Günter NOOKE expressed gratitude for the warmth and candour of the President of the Republic during their discussion. He was also thankful for the support that his country has always received from Cameroon on many issues.
The German envoy revealed that security issues were discussed, especially the issue of Boko Haram, which has to be confronted and completely eradicated, and he promised that Germany will continue to do more so as to support Cameroon in its fight against the terrorist group.
Another topic that was of concern to the two personalities was health, a domain in which the German government has always assisted Cameroon. The German envoy announced an allocation of 16 million Euros to help stabilise the health system of Cameroon which has been put under a lot of stress by the massive inflow of refugees from the neighbouring countries.
Günter NOOKE went further to mention the Feroostal fertiliser project in Limbe and a round table in Germany to discuss the economic sector of Cameroon as some of the issues that were discussed with President Paul BIYA.