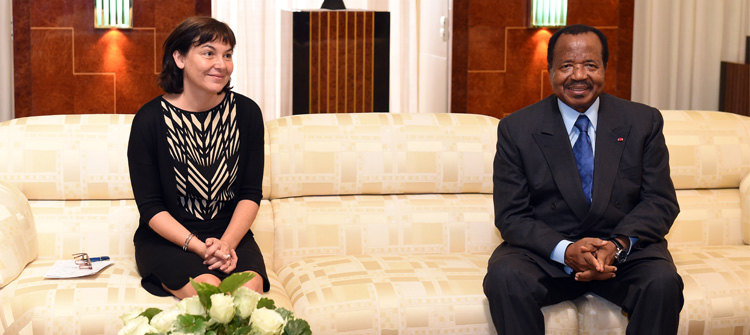 The visiting French Secretary of State for Development and la Francophonie was granted audience on Monday 2 November 2015 at Unity by the President of the Republic His Excellency Paul BIYA. Their discussions centred around the issues of insecurity, the development of war zones, the handling of refugees and climate change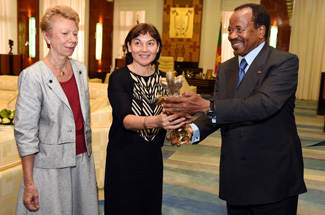 Speaking to the press at the end of her discussions with the Head of State, Annick GIRARDIN told the press that they reviewed several issues of common interest, notably the situation of refugees. According to the French Secretary of State for Development and la Francophonie, nearly 300 000 refugees from the Central African Republic are living in Cameroon. She hailed the fact that Cameroon enabled the Central Africans to participate in the elections that will be coming up in December 2015. A very good example of "South – South" solidarity which deserves the support of the international community and France.
Talking on the fight against the Boko Haram terrorist group, she pointed out that it was a subject of major concern to the Heads of State of Cameroon and France. The audience was a good opportunity to review the military operation and also the humanitarian and developmental aspects of the affected territory as inclusive ways of solving the problem of terrorism. She promised that France will always be besides Cameroon, especially the French Development Agency (AFD) and other partnerships so that many such projects can be undertaken in the country.
Speaking on the subject of climate change Cop 21 scheduled to hold in Paris later this month, the French Secretary of State said there are many expectations from the summit. She expects that at the end of the summit, there should be binding, ambitious solutions and responses.
The Head of State and the French Secretary of State exchanged gifts during the audience. Annick GIRARDIN was accompanied to Unity Palace by the French Ambassador to Cameroon Christine ROBICHON and some of her close collaborators.