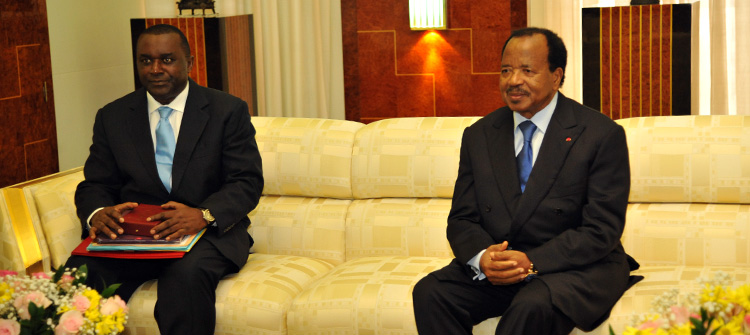 The President of the Republic His Excellency Paul BIYA granted audience to Mr. Lucas ABAGA NCHAMA, the Governor of the Bank of Central African States (BEAC) on Friday 29 November 2013, for discussions on the financial situation of the Central African Sub-region.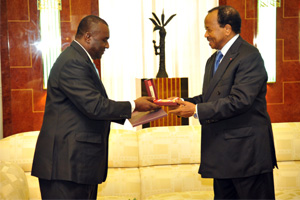 After their discussions that lasted over an hour, the Central Bank Governor informed the press that he had come to brief the Head of State on the financial situation of the Sub-region. He said that it was his duty to give an account of the financial situation whenever the Head of State asked for it, and added that the bank was doing fine. He was equally delighted to benefit from the advice from the President who always cautioned him on good and selfless management of public funds.
Mr. ABAGA NCHAMA said that the economies of the Sub-region were adversely affected by the international economic downturn. The growth rate therefore stood at 3% as against 5% in 2012, a growth rate that is not sufficient to enable the countries meet their set targets.
The Central Bank Governor said that his institution had taken all the measures to give an economic boost to the Sub-region. Since 31 October 2013, the Central Bank of has lowered its prime rate, in keeping with the practice carried out by other central banks to sustain economic growth. The Bank of Central African States serves as the central bank for the countries of the Economic and Monetary Community of Central African States (CEMAC).