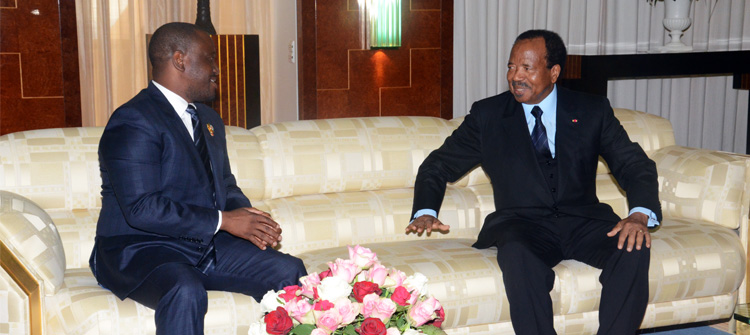 The Head of State His Excellency Paul BIYA has held discussions with the visiting Speaker of the National Assembly of Côte d'Ivoire, Guillaume Kigbafori Soro, at Unity Palace on Friday 13 June 2014. The two personalities made an overview of the friendly cooperation ties between Cameroon and Côte d'Ivoire during the audience that lasted over forty five minutes.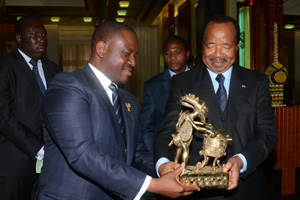 Speaking to the press shortly after the audience, Guillaume Soro expressed gratitude to President Paul BIYA for the long and exceptional discussions he had with the Cameroonian leader. He said he was very pleased with the warmth of the fraternal greetings that the Head of State extended to the President of Côte d'Ivoire, Alassane Dramane Ouattara.
The Speaker of the Ivorian National Assembly indicated that he was very satisfied with the fruitful discussions that will go a long way to enhance and strengthen cooperation ties between Abidjan and Yaoundé.
He commended the Head of State for the pertinent advice that he had received from this wise man of Africa on the conduct of affairs in their country.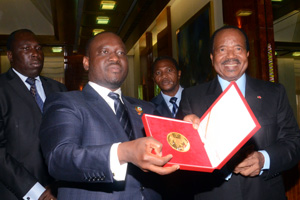 Guillaume Soro told the press that he was very elated by the concern and attention of the Cameroonian authorities and the warmth and hospitality of the Cameroonian people which was proof to him that relations between Côte d'Ivoire and Cameroon are on a good foot.
The Speaker of the Ivorian National Assembly was accompanied to Unity Palace by the Ambassador of Côte d'Ivoire to Cameroon, Dosso Adama. President Paul BIYA gave him two souvenir presents, and it was a visibly happy and accomplished man who departed from Unity Palace on the eve of his 5 days working visit to Cameroon.