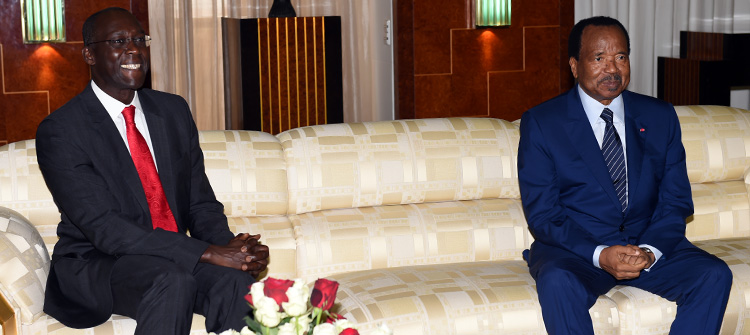 The Head of State His Excellency Paul BIYA has had discussions at Unity Palace with the visiting Vice President of the World Bank, Maktar DIOP on Wednesday 23 July 2014. The audience that lasted over one hour was occasion for the World Bank official and President Paul BIYA to review a wide range of development issues.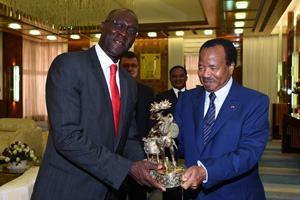 Speaking to the press shortly after the audience, the highly elated World Bank Vice President for Sub Saharan Africa explained that he was in Cameroon to look for ways in which the bank can accompany Cameroon in its laudable development endeavours. He pointed out that he made an overview of the major development projects underway with the Head of State, including the Lom Pangar electricity dam project which he visited the day before.
The development of the North Region was another point of focus in their discussions, given that efforts had to be made to make this region of the country to have adequate infrastructure for a harmonised development of the country.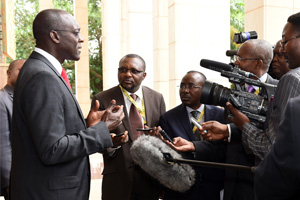 Maktar DIOP equally talked of the social component of the development strategy, especially the sectors of health and education which had to be carefully followed up so that Cameroon can have a durable and sustainable development. It is in this wise that they discussed the provision of free school books and material for primary school pupils and other measures which will help the very vulnerable social groups in the country.
Maktar DIOP arrived Cameroon on Monday 21 July for a four day visit that will enable him hold discussions with several Government officials and visit development projects in the country. He is also expected to sign some important agreements with the Government. The World Bank top executive is expected to meet the press this afternoon for a detailed exchange on his visit to Cameroon.