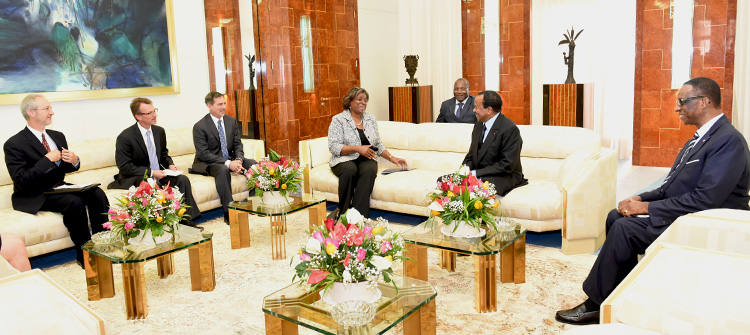 The Head of State His Excellency Paul BIYA had discussions at Unity Palace on Saturday 6 September 2014 with the visiting American Deputy Secretary of State for African Affairs Linda THOMAS-GREENFIELD. She was at the head of a delegation that included Michael Stephen HOZA, the new American Ambassador to Cameroon; Stephen SCHWARTS, the Director for West Africa at the State Department; and Melissa SHUMI JONES, Director at the State Department.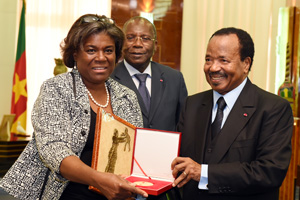 The audience lasted over one hour, after which the American Diplomat told the press that they discussed the Boko Haram insurgency which has ravaged many localities in the Northern regions of Cameroon, the situation in the Central African Republic as well as the economic and political climate of Cameroon. They also discussed the US/African Leaders Summit which held in Washington D.C. with the participation of President Paul BIYA.
Linda THOMAS-GREENFIELD talked of the meeting in Nigeria a few days back where the Boko Haram insurgency was reviewed, a meeting in which Cameroon was represented by the Minister of External Relations Pierre MOUKOKO MBONJO and included representatives of the UK, France, China and other neighbouring countries to Nigeria, She was confident that a regional strategy was being put in place to eradicate the terrorist organisation. The insurgency is presently occupying more territory, as she said they had seized several villages in northern Nigeria and are threatening to overrun the town of Maiduguri.
The visiting American Diplomat commended the efforts of the Cameroonian Armed Forces in pushing back the several incursions of Boko Haram into Cameroon and expressed her wish that the wife of the Vice Prime Minister be released by the terrorists. Linda THOMAS-GREENFIELD also expressed her condolences to the population of the affected areas who have lost relatives and property.
President Paul BIYA offered some souvenirs to his guests at the end of the audience.