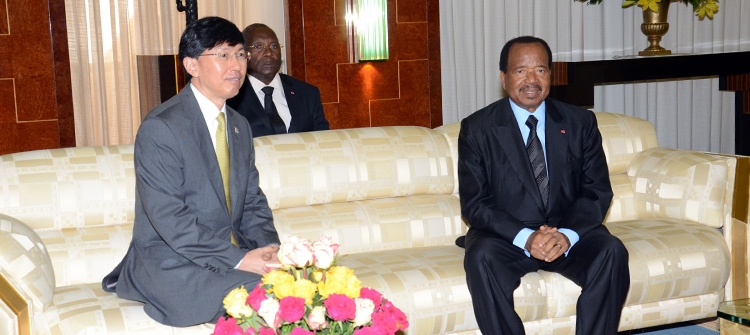 The Head of State His Excellency Paul BIYA granted audience on Friday 10 October 2014 to the outgoing Ambassador of the Republic of Korea, H.E. June HYUCK CHO at Unity Palace, who has been in Cameroon for three years.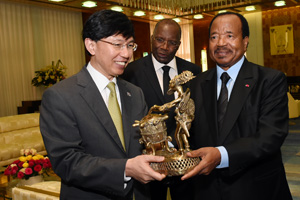 The Korean Diplomat in his remarks to the press after over one hour of discussions with President Paul BIYA expressed gratitude to the Head of State for the audience which was an opportunity for them to make an overview of the excellent friendly cooperation ties between the two countries.
He said that the President of the Republic had helped him to achieve many positive things in Cameroon during his stay, as he realised projects in Limbe, Sangmelima, Douala and Yaounde. He promised that more things will be realised as the cooperation ties between the two countries are strong and there is a genuine partnership between Korea and Cameroon.
June HYUCK CHO was delighted to say that Cameroon is a very peaceful country and that peace is a very precious element. He therefore called on all Cameroonians to join efforts in preserving the peace.
It should be noted that Ambassador June HYUCK CHO arrived Cameroon on 12 September 2011 and presented his letters of accreditation to the President of the Republic on 27 September that same year.
President Paul BIYA handed some souvenir gifts to the outgoing Ambassador at the end of the audience.